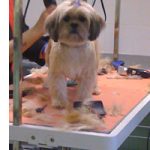 We have a 'groom room' within the centre that is open daily. Our experienced and dog friendly groomers will help you to keep your dogs coat in tip top condition.
If you have a difficult dog we have behaviourists who can attend and help make you dogs experience a happier one.
Our grooming service:
• All breeds catered for.
• Competitively priced.
• Products available.
K9 KUTZ Service
Professional Dog Grooming
• All Breeds
• Colognes and Shampoos Sold
• Nail Clipping
• Weekend Appointments
• Dogs Prepared for Special Occasions
• Glitter Finishes
Contact: 0141 646 5858
Email: dogs@livewithyourdog.co.uk