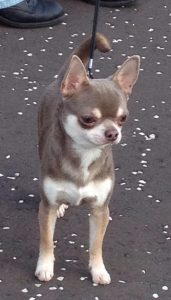 Vivian is a Kennel Club Assured Breeder of long and smooth coated Chihuahuas and is also licensed as such by the local council. As a behaviourist, Vivian has a breeding programme to produce Chihuahuas that have impeccable temperaments and outgoing personalities and that can adapt quickly and easily to new environments. You can rest assured that every care and attention is given to the mothers and babies with regard to their physical and mental development, health and well being. Every attempt is made to help and advise new owners and every puppy unquestionably comes with a lifetime of behavioural advice and help if required.
---
My own dogs and puppies are brought to the Pet Behaviour Centre every day which exposes them to people and dogs, being handled and different sights and sounds. This of course means that they are well travelled, socialised and habituated to many things during the critical development stages of their lives. In addition all puppies are subjected to early neurological stimulation (bio-sensor) exercises, ensuring that any stress encountered later on in life will be easier to tolerate.
All puppies have a thorough health check prior to going to their new homes.This is a truly unique opportunity to acquire a dog that has had the best possible start in life with regard to socialisation and habituation. If you would like to know more about Chihuahuas or when any litters may be due and available, please call or contact us through the site.
WE HAVE PUPPIES FOR SALE AT THE MOMENT.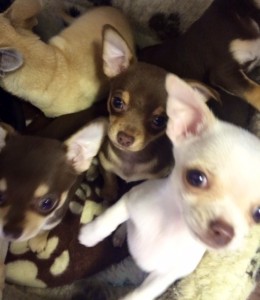 CALL FOR MORE INFORMATION.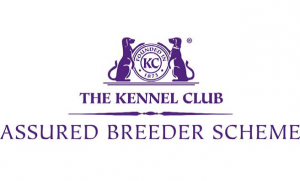 We have regular Chihuahua Chat meetings at the centre which allows unrestricted socialisation opportunities and play whilst you have a chat and cup of tea with other Chi owners. There is always a behaviourist in attendance to answer any questions and provide help and advice.FREE nail clipping is provided to all attendees. A small charge is made of £8 per session for single dogs or £10 for multi dogs owned by one person. This fee has not increased in many years.



Please call for details. 0141 646 5858
Chihuahua Chat meetings: Every other Wednesday at 7 pm-8:30 pm at the centre from the 27th Feb 2019.